---
So today I wanted to do a tag! I've never done a tag before, so I thought: let's start with the Goodreads tag!
1. What was the last book you marked as 'Read'?
The last book I marked as 'Read' was The One by Kiera Cass.
2. What are you 'Currently Reading'?
I'm currently reading The Hunger Games by Suzanne Collins (it's a re-read!) and Clockwork Prince by Cassandra Clare. Goodreads has also marked Alice's Adventures in Wonderland & Through the Looking-Glass, because I finished the first book but not the second.
3. What was the last book you marked as 'To-Read'?
The Taking by Kimberly Derting. I don't know who talked about it lately, but this book sounds really interesting.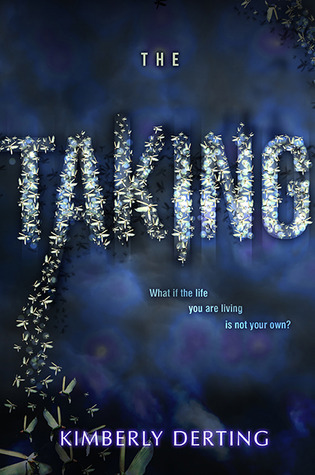 4. What book do you plan to read next?
I think I'm going to read Harry Potter and the Halfblood Prince next, because I'm reading one Harry Potter book of the month and I haven't read any this month yet, or Clockwork Princess or Through the Looking-Glass.
5. Do you use the star rating system?
Yes, I do! But I wish they would use a 10 star system or half stars instead of just 5 stars.
6. Are you doing a 2014 reading challenge?
Yes, I do. I set my goal to read 50 book this year, and I already read 28 books, well actually 29. But pages says more than books because I've read big books like Harry Potter and Lord of the Rings, but also the short novella's of The Selection series.
7. Do you have a wishlist?
I created one when I started Goodreads, but I don't use it anymore.
8. What book do you want to buy next?
Anna and the French Kiss trilogy by Stephanie Perkins and Chaos Walking trilogy by Patrick Ness. I'm getting the second and third book in the Across the Universe series and the Legend boxset already, but these are the books I really want to buy after. (I already read Anna and the French Kiss on my ereader).
9. Do you have any favourite quotes? Would you like to share a few?
Yes I have. Actually I have my favorite quotes on my blog as well. These are the quotes from my Goodreads page. If you click on my blog you can see a different quote everytime you visit it. But one of my favorites quotes is by Nicholas Sparks from A Walk to Remember:
Love is patient and kind. It's never jealous. Love is never boastful or conceited. It is never rude or selfish. It does not take offence and is not resentful.
10. Who are your favourite authors?
Kiera Cass, Veronica Roth, Marissa Meyer, Suzanne Collins, J.K. Rowling, Nicholas Sparks, Sarah Dessen and Cassandra Clare.
11. Have you joined any groups?
Yes! I'm in the #SummerofSpells, a Dutch group, Sarah Dessen bookclub, Abookutopia Read-alongs, The Chick Lits (but I don't participate in there read-a-longs..), #AYearAThon and BOOKSPLOSION READ-ALONG group.
12. Are there any questions you'd like to add to this tag?
No, but I would like to tag SilverThistle, These Paper Towns, Peace☮Love♥Books and Thariene to do this tag and I know I don't make YouTube video's, but I do watch them so I would like Novella Zoo, Elly Mary and Michelle Madow to do this tag as well.
I also want to mention that this is my Goodreads: click so we can be friends there as well. If you want more friends on Goodreads you can also mention your Goodreads in the comments.
What tag would you like me to do next?